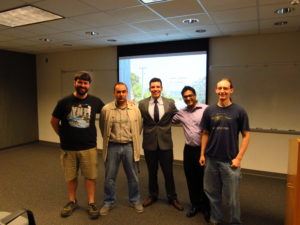 CONGRATULATIONS!!
Jesse and Walter
DOCTORS SINCE MAY AND OCTOBER 2016
Disclosure: Not that kind of Doctors!!
New Lab publication:Monteagudo-Mera A, Arthur JC, Jobin C, Keku T, Bruno-Barcena JM, Azcarate-Peril MA (2016) High purity galacto-oligosaccharides enhance specific Bifidobacterium species and their metabolic activity in the mouse gut microbiome. Benef Microbes. Feb 3:1-18.
New Lab publication:Noar JD & Bruno-Bárcena JM (2016) Protons and pleomorphs: aerobic hydrogen production in Azotobacters. World J Microbiol Biotechnol. Feb;32(2):29. doi: 10.1007/s11274-015-1980-5.
New Lab publication: Dagher SF, Bruno-Bárcena JM. (2015) A novel N-terminus region of the membrane B-hexosyltransferase; its role in secretion of soluble protein by Pichia pastors. Microbiology. 2015 Nov 9. doi: 10.1099/mic.0.000211.
New Lab publication:Sandoval-Espinola WJ, Chinn M, Bruno-Barcena JM.(2015) Inoculum optimization of Clostridium beijerinckii for reproducible growth.FEMS Microbiol Lett. 2015 Oct;362(19). pii: fnv164. doi: 10.1093/femsle/fnv164.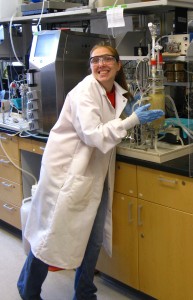 CONGRATULATIONS!!
SUPER ALICIA COX 
Since January 2016 A Merk Employe!!
2015-2016 Dr. Elizabeth S. Haas Memorial Research Endowment for Women in Microbiology
Summer 2015 research award from the office of undergraduate research at NCSU
WELCOME AND CONGRATULATIONS!!
HUNTER WHITTINGTON 
Recipient of a 2015 Teaching Assistantship
Full Admission to Graduate Student in Microbiology -PhD
New Lab publication:Marta C.T. Leite, Bryan Troxell, Jose M. Bruno-Bárcena and Hosni M. Hassan (2015) Biology of Reactive Oxygen Species, Oxidative Stress, and Antioxidants in Lactic Acid Bacteria. Koen Venema and Ana Paula do Carmo eds. In; Probiotics and Prebiotics: Current Research and Future Trends. Caister Academic Press

Lactic acid bacteria (LAB) are important in food fermentations and in human health. Due to their physiological and ecological heterogeneity, they encounter a variety of stressors including acid, osmolality, heat, bile-salt, and oxygen. LAB are exposed to oxidative stress caused by the partially reduced reactive oxygen species (ROS) generated from endogenous sources as well as from the environment. Findings over the past fifty years have demonstrated that this group of organisms comprise a heterogeneous mixture of different genera, where some members of the group have the capacity to synthesis antioxidant enzymes like Mn-containing superoxide dismutase (MnSOD), non-heme catalases (i.e., Mn-containing catalase: MnKat), and heme catalases (when provided with exogenous source of heme). Furthermore, some members of the group can accumulate large intracellular concentrations of manganese to use in the detoxification of ROS. In this chapter, we discuss the natural defenses against ROS in LAB as well as the technological practices used in the food and nutraceutical industries to protect LAB from oxidative stress and loss of viability during processing and storage.
New Lab publication: Noar J, Loveless T, Navarro-Herrero JL, Olson JW, Bruno-Bárcena JM (2015) Aerobic

hydrogen

production

via

nitrogenase

in Azotobacter vinelandii CA6. Appl Environ Microbiol. 2015 Apr 24. pii: AEM.00679-15. [Epub ahead of print]
New Lab publications: 
Sequence data for

Clostridium autoethanogenum using three generations of sequencing technologies
New ORNL, N.C. State, LanzaTech DNA dataset is potent, accessible tool
Bruno-Barcena JM, Azcarate-Peril  MA (2015) Galacto-oligosaccharides and Colorectal Cancer: Feeding our Intestinal Probiome. J Funct Foods 12:92-108
CONGRATULATIONS
!!
 Walter FOR THE M.S. in MICRIBIOLOGY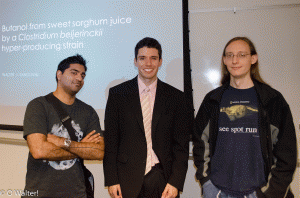 New Lab publications:
Noar J, Makwana ST, Bruno-Bárcena JM. (2014) Complete Genome Sequence of Solvent-Tolerant Clostridium beijerinckii Strain SA-1. Genome Announc. 2014 Dec 18;2(6). pii: e01310-14. doi: 10.1128/genomeA.01310-14.
Sandoval-Espinola WJ, Makwana ST, Chinn MS, Thon MR, Azcárate-Peril MA, Bruno-Bárcena JM (2013) Comparative phenotypic analysis and genome sequence of Clostridium beijerinckii SA-1, an offspring of NCIMB 8052. Microbiology. 2013 Sep 25. [Epub ahead of print]
New Lab publication:
Bruno-Bárcena JM, Chinn MS, Grunden AM.(2013) Genome Sequence of the Autotrophic Acetogen Clostridium autoethanogenum JA1-1 Strain DSM 10061, a Producer of Ethanol from Carbon Monoxide. Genome Announc. 15;1(4). doi:pii: e00628-13. 10.1128/genomeA.00628-13.
New Lab publication:
Noar JD, Bruno-Bárcena JM. (2013) Complete genome sequences of Azotobacter vinelandii wild-type strain CA and tungsten-tolerant mutant strain CA6. Genome Announc. 1(3):e00313-13. doi:10.1128/genomeA.00313-13.
CONGRATULATIONS SATYA FOR THE M.S. in MICRIBIOLOGY
!!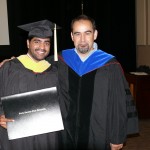 New Lab publication:
Suzanne F. Dagher, M. Andrea Azcarate-Peril, and J. M. Bruno-Barcena (2012). Heterologous expression of a bioactive B-hexosyl-transferase, an enzyme producer of prebiotics, from Sporobolomyces singularis. Appl Environ Microbiol. 2013 Feb;79(4):1241-9. doi: 10.1128/AEM.03491-12
For second consecutive year our technology has been selected as a finalist to present to the CIF Selection Committee.
New Lab publication:
M. Andrea Azcarate-Peril, Michael Sikes, and Jose M. Bruno-Barcena (2011) The intestinal microbiota, gastrointestinal environment and colorectal cancer: A putative role for probiotics in prevention of colorectal cancer? American Journal of Physiology – Gastrointestinal and Liver Physiology. Sep;301(3):G401-24. Epub 2011 Jun 23.
CONGRATULATIONS JESSE FOR THE GRFP FELLOWSHIP !!

New Lab publication
:
H. Heluane, M.R. Evans, S. F. Dagher, and J. M. Bruno-Barcena* (2011). Nutritional requirements of solventogenic Clostridia growing under butanol stress and co-utilization of D-glucose/D-xylose. A meta-analysis and a functional validation.
Appl. Environ. Microbiol.
77(13):4473-85
WELCOME TO NCSU
AND
CONGRATULATIONS TO WALTER FOR THE FULBRIGHT FELLOWSHIP !!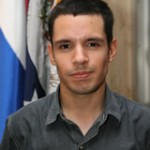 Walter Javier Sandoval Espinola/Candidate to M.S. in MicrobiologyBachelor of Science, Biology 2009 Universidad Nacional de Asunción (UNA) San Lorenzo, Paraguay