Upon graduation our students receive first-class up to date training and the right credentials sought by employers in the job market
She is an expert with extensive dexterity in molecular biology, protein biochemistry, protein expression, protein purification and yeast genetics.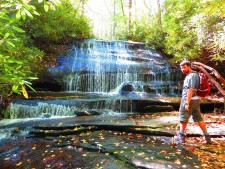 Hunter Whittington candidate to PhD in Microbiology

2013 B.S. in Microbiology – NC State University

E-mail: hdwhitt(at)ncsu.edu
 A North Carolina native, Hunter was born in the beautiful city of Asheville, but has lived all over the state. His fascination with the sciences was evident at an early age, as he spent much of his time collecting rocks and experimenting with chemistry.
In high school, Hunter's interest in microbiology piqued when he performed a simple bacterial transformation experiment in his AP Biology class. Several long discussions later, Hunter knew that he wanted to perform microbiological research.
For various silly reasons, Hunter decided to pursue a degree in Biomedical Engineering at NC State and after a semester of struggling through boring engineering classes, he knew something had to change. After a brief meeting with Dr. Jim Brown, Hunter changed his major and eventually earned his Bachelor's degree in microbiology.
After graduating Hunter spent a year in the NCSU Department of Plant Pathology developing real-time PCR quantification assays for different plant pathogens. He then spent some time working as a technician at the Duke Human Vaccine Institute before returning to NC State to pursue his Ph.D.
Outside of science, Hunter enjoys spending his time hiking, backpacking, rockhounding and cooking.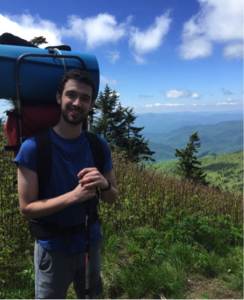 Jace Natzke candidate to PhD in Microbiology
2014 B.S. in Microbiology
He joined our lab fall 2016 after received a Teaching assistantship at NCSU.
E-mail: jmnatzke(at)ncsu.edu
Jace Natzke was born in Colorado, raised in Tennessee, and now lives in North Carolina. He enjoys camping, hiking, and playing soccer. He also enjoys the thrill of sitting around at home doing absolutely nothing.

After graduating from the University of Tennessee in 2014, Jace began working on developing second generation biofuels for the Department of Energy at Oak Ridge National Laboratory. His work has been included on several publications and he has presented his research at various scientific conferences.

Jace is continuing his work on biofuels as a graduate student at North Carolina State University. He is working with Azotobacter vinelandii and looks forward to making an impact on the diverse and challenging field of biofuels.